What are Real Estate Syndications, and Why are they Gaining Traction?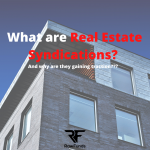 Suppose you want to invest in commercial real estate but are short of time, experience, and resources to manage it yourself. In that case, real estate syndication is a business opportunity worth considering.  While the idea has been around for decades, More investors are starting to understand the possibility of making money by pulling resources together without the hassle of investing individually.
This article discusses real estate syndication, its benefits, and its drawbacks. It further discusses getting real estate syndication deals and how to make money from them.
So, let's dive in!
What Are Real Estate Syndications?
Also known as real estate crowdfunding, syndications are groups of investors who have come together to pool funds to purchase a large real estate property. Real estate Syndications offer opportunities to investors to acquire properties they wouldn't afford on their own and get more significant returns on investment. 
Real estate syndication is a legal entity established through the Jumpstart Our Business Startups (JOBS) act, signed into law in 2012. It can either be a limited liability (LLC) or a private partnership.  Investors in a limited liability company carry out business in the group's name without bearing personal liability.  In a private partnership, the general partner takes all the liability while the limited partners bear liability up to the amount they have contributed.
Investors assume various roles in real estate syndications, including syndicator, investor, or equity partner.
Syndicator
Also known as a sponsor, a syndicator is a manager of the syndication deal. The sponsor is usually experienced in real estate and is therefore responsible for acquiring and managing the property. In addition, he organizes and arranges all the legal procedures involving the deal. A syndicator is usually the general partner and raises 5-20% of the funds, while the limited partners raise the rest. In some syndications, the sponsor offers his skills, expertise, and time in property management instead of funds. The sponsor benefits from this deal through acquisition and property management fees.
Investor
An investor in a real estate syndication is also a limited partner responsible for providing capital. The investor has a passive role in this deal because he is not involved in active property management. Instead, he invests money to gain profits.
Equity Partner
An equity partner in a real estate syndication is a third party who manages the relationship between the investor and sponsor. The partner is essential in syndications involving multiple investors to ensure a transparent relationship. 
How Does Real Estate Syndication Work?
A real estate syndication has two key players -The syndicator and the investor. Your role depends on your expertise in real estate and the amount you are willing to contribute. A syndicator is usually experienced in real estate and bears the most responsibility. On the other hand, the investor usually has little or no experience in real estate and joins the deal as a passive income. 
Real estate syndication involves several steps: obtaining capital, asset purchase, property development, improving operating income, profit distribution, and final exit. The syndicator identifies, evaluates, and underwrites an investment deal. They then pitch the idea to potential investors who contribute a percentage of the capital to get a return.
The syndicator uses the money from investors to acquire property or properties to develop or improve to increase their value. For instance, they may obtain a rental property, renovate it and increase the rent. The sponsor distributes profits to the investors after deducting the expenses and fees.
Real estate syndications have different exit strategies. For instance, some sponsors buy property, improve it, and sell it at a profit after a few years. Others will own the property for several years, especially if it's bringing a steady flow of income. The syndication process is complete once an exit strategy has been achieved.
Why Are More and More People Turning To Real Estate Syndications?
Real estate syndications are popular for several reasons. For instance, some individuals may be interested in real estate investment but lack the skills and experience in property acquisition and management. In this case, a syndicator is responsible for identifying, acquiring, and managing the property on their behalf.  Additionally, real estate syndications provide opportunities for investors to purchase a property they couldn't afford, thus diversifying their portfolios. Besides, investors enjoy various tax benefits, including capital gains tax exemption.
Who Can Invest In A Real Estate Syndication?
Although real estate syndication is a great investment opportunity, it's certainly not for everyone. To qualify for such a deal, you must be an accredited or sophisticated investor. The securities and exchange commission (SEC) classifies an accredited investor as a person or company capable of investing in sophisticated or complex securities. You should have an average individual annual income of more than $200000 or more than $300000 with a spouse. Alternatively, you should have an individual or joint net worth of over $1ooo ooo.
A sophisticated investor is a high net worth investor with vast knowledge of the financial market and substantial wealth and income sources.  These investors are helpful to the syndication deal because they have expertise in analyzing the benefits and risks of an investment deal before ratifying the transaction.
Where To Find Real Estate Syndication Deals?
You can find real estate syndication deals through networking with real estate investors on social platforms or attending local investment meetings. Additionally, many real estate online crowdfunding platforms connect developers with potential investors. These real estate online investment platforms perform due diligence on properties and investment deals to help investors make informed decisions. Besides, you can approach syndicators directly, either online or through real estate investment firms.
How Much Money Do I Need To Invest In Real Estate Syndications?
Each type of real estate syndication has a distinct minimum real estate investment requirement. Although some accept as low as $25000, most syndications require a minimum of $50000. However, you can contribute any amount up to and including $50,000, often in $5,000 increments, to a real estate syndicate.
How To Evaluate Real Estate Syndication Deals?
With so many real estate syndication opportunities, it can be daunting for new investors to choose the best one. Thus, it's crucial to evaluate the deals carefully and precisely. The following are tips to vet real estate syndication deals.
Determine a Syndicator's Track Record
Look for information regarding the sponsor's type and the quality of investment opportunities they offer. Research online for the history of transactions and returns. Does the investor have a portfolio of returning investors, and are they willing to provide such information?
Investment Holding Duration
It's important to know the duration of the syndication deal to determine if it aligns with your goals.  For instance, you may want to invest in an agreement to get the returns when your child gets to college. In this case, invest in a deal that lasts until that time. And if you want to get your return on investment fast, consider a deal that lasts 1-2 years.
Legal Business Structure
The syndicator offering the deal should have a legal business structure that can be a limited partnership or a limited liability company. A legal structure ensures the protection of each party's investment by clearly stating the liabilities of each partner.
Transparency
The syndicator should be transparent on the assumptions and projections of the investment based on the past, current, and future market trends. The deal should be apparent and realistic on the targeted returns. Compare returns from previous projects with the targeted returns and invest with sponsors with a history of achieving and surpassing their targets.
Distribution Of Returns
Before signing any syndication deal, look at the private placement memorandum that details the investment plan and cash flow distribution. In any authentic agreement, the investors should receive the most investment returns based on individual contributions.
Exit Strategy
Invest in a deal with a proper exit strategy that minimizes risks while maximizing return on investment. Some sponsors engage in long-term buy and hold, while others engage in short-term property flipping. Your chosen approach should align with your long-term and short-term goals and financial plans.
How Do Investors Make Money In Real Estate Syndication?
In any syndication deal, investors contribute a significant share of capital. For instance, a syndicator may only raise 5-10% of the capital or none while investors raise the rest. Thus, the investor earns passive income in the form of preferred returns. Depending on prior agreement, the investor may reach 70% of the returns while the syndicator makes 30%.
In the case of rental properties, the investor earns a percentage of the profits based on his share capital. Syndicators may pay these profits monthly, quarterly, or annually. Some sponsors will sell the property at a profit during exit. In this case, the investor gets his initial share capital and a percentage of profit from the sale.
Are There  Risks and Drawbacks To Investing In a Real Estate Syndication?
Investing in real estate syndications is a great way to diversify your portfolio, but it also comes with risks and drawbacks. Real estate syndications are long-term investments that sometimes take up to 10 years. A lot can happen before the deal is complete, including unexpected expenses from taxes, insurance costs, maintenance, and repairs. These expenses may significantly lower the investor's returns. Additionally,value-adding may take longer than projected in the initial agreement, resulting in minimal or no profits at the exit.
In some cases, syndicators may misappropriate or steal funds, affecting investors' returns. Thus, it's essential to mitigate such risks before they occur by performing proper background checks and investing with trustworthy real estate syndicators.
Final Thoughts On Real Estate Syndication
Real estate syndication offers an excellent opportunity for investors to grow their portfolio of properties. A group of like-minded investors can pool funds to purchase a large property they couldn't afford individually and avoid the hassle of active property management.
Like any other long-term investment, real estate syndication has potential drawbacks. Unexpected expenses and unpredictable market trends may significantly reduce an investor's return on investment at the exit. However, an investor can avoid these risks by working with experienced property managers with a deep understanding of the financial market. Thus, new investors should carefully vet real estate syndications and invest with expert sponsors to mitigate such risks.